If you purchase through the Trend Micro online store you receive an unconditional 30-day money-back satisfaction guarantee.

"Trend Micro knocks the spots off McAfee. McAfee used to just start itself up and practically lock me out of using my PC. With Trend Micro I've got the use of my machine back."
Boris Sedacca, UK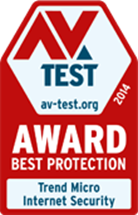 #1 Award Winning Protection
"Trend Micro Internet Security is the safest product in our test series for consumers in the category of PROTECTION."
- Maik Morgenstern, CTO AV-TEST GmbH